SPOTLIGHT: CHILDREN WITH GLASSES AND/OR AN EYE PATCH
For a child, it can feel lonely to be told to start wearing glasses. Too often, it is the case that nobody else in the child's group of friends wears glasses. But there are many wonderful children with glasses throughout Denmark. So, your child is not alone.
Does your child wear glasses and/or an eye patch? The let's build together a page with pictures and stories to support children and parents, who suddenly find themselves in this situation. Let them know that they are far from alone. 🙂
Drop us an e-mail with a picture and your story. Short or long. We will make room on the page.
INSPIRING CHILDREN WITH GLASSES/AN EYE PATCH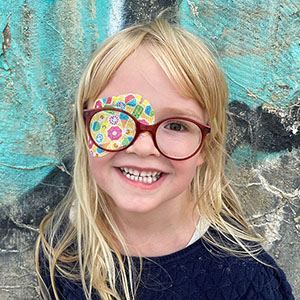 Alma was born with congenital cataracts on her left eye. You can read about her journey in the blog. She has worn glasses and used an eye patch since she was six months old. Today she is six years old and is down to five hours of vision therapy exercises daily. You can read her entire story in the 'Blog'.
DO YOU WANT YOUR CHILD TO BE SHOWN HERE?
DO YOU WANT YOUR CHILD TO BE SHOWN HERE?
Tips og viden til forældre med brillebørn
Har du et barn med briller, eller mistænker du, at dit barn skal bruge briller? Så anbefaler vi dig, at kigge forbi siden 'Barn med briller'. Her har vi samlet en lang række nyttige ting, der skal støtte forældre til børn med briller.